Comprehensive Swimming Pool Repairs in North Cyprus
Do you own a swimming pool in the TRNC that leaks due to: defective insulation, a cracked water-collecting channel, or a pool balance tank issue?
Is your swimming pool tilting or cracking because of substandard construction or poor soil compaction?
Is your swimming pool channel overflow uneven, affecting the cleanliness of the water surface?
If you have a leaking or defective swimming pool, the result can be disastrous. You may experience continual dilapidation, a loss of water, a pump that runs dry, and an ongoing observation and maintenance headache.
Swimming pool issues are generally the result of the following types of problems:
substandard original construction or previous repairs;
soil that was not properly compacted upon construction and caused tilting;
defective insulation of the pool shell;
poor construction of the water-collecting channel;
faulty balance tank.
In any case, Cyprus Homebuilders knows how to evaluate your swimming pool problem and present a solution that will last.
Solid and Accurate Repair Process
When local construction companies in the TRNC do not have the necessary equipment to make accurate ground level measurements, homeowners end up with swimming pool issues such as an uneven overflow or chemical related pool edge erosion. At Cyprus Homebuilders, we make it our responsibility to investigate every aspect of your pool before we propose a plan and proceed with any work.
Whether we are providing new swimming pool construction or a swimming pool repair project, we ensure accurate measurements and the highest quality materials and workmanship for satisfactory results. We give attention to both aesthetics and function when it comes to your outdoor spaces, helping you select the best materials available in North Cyprus at the most reasonable prices.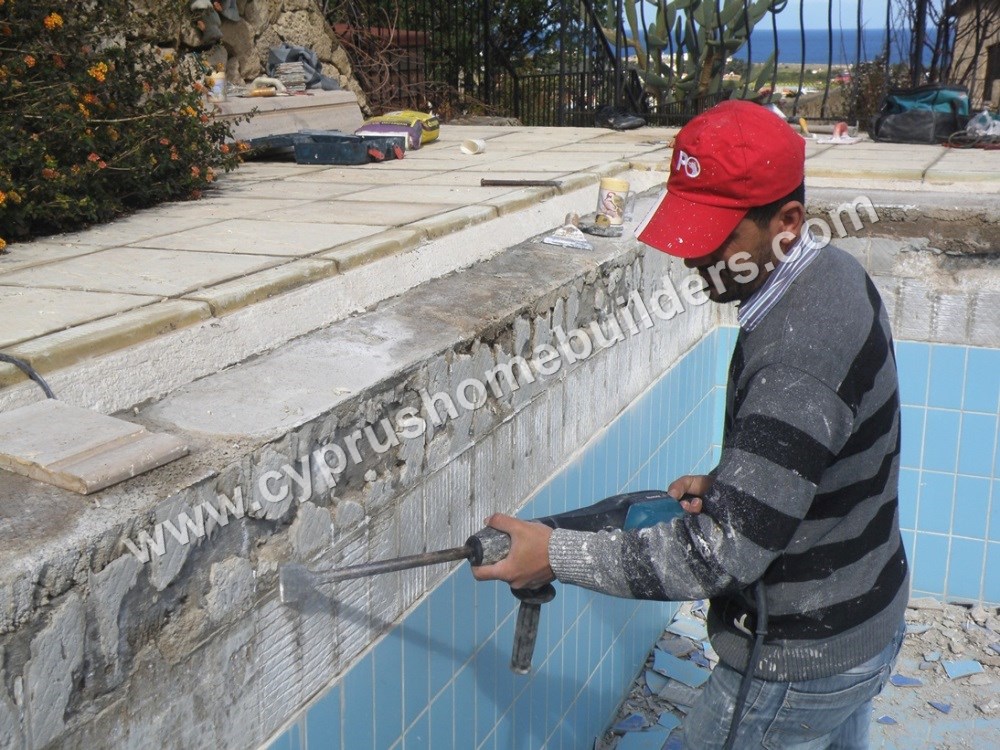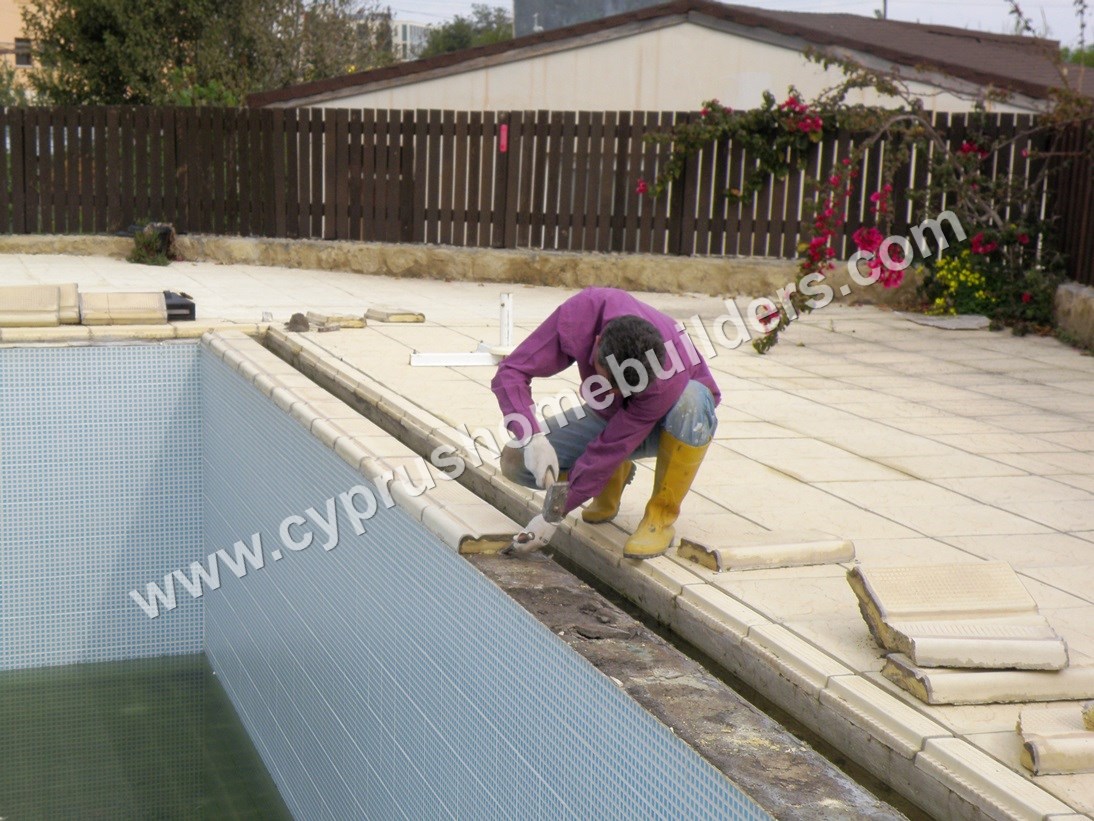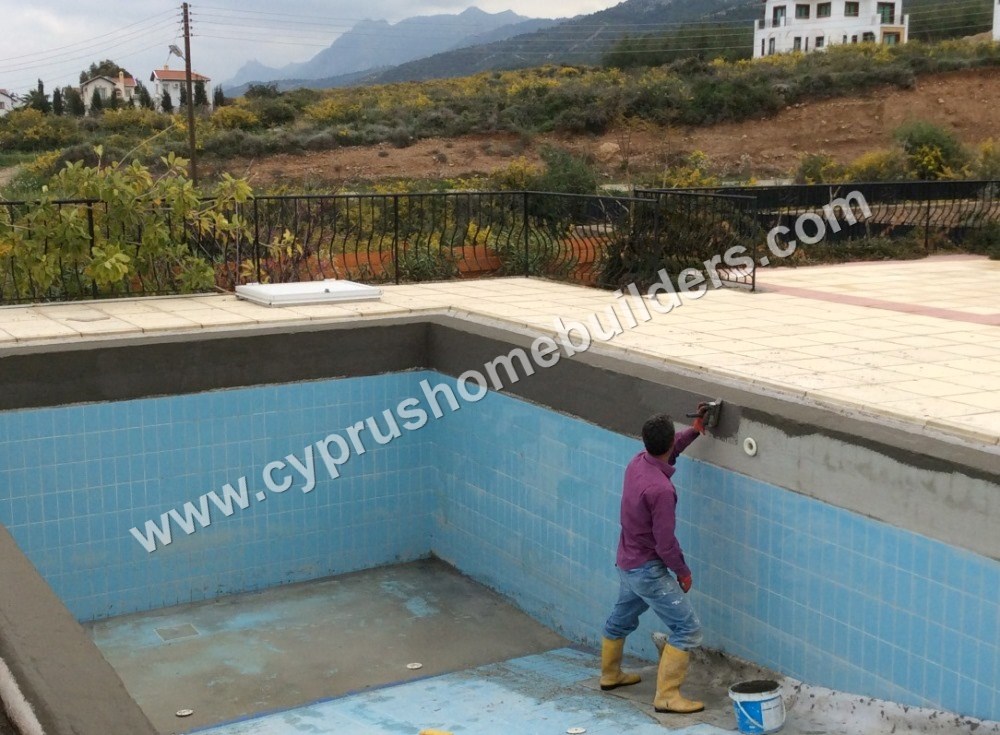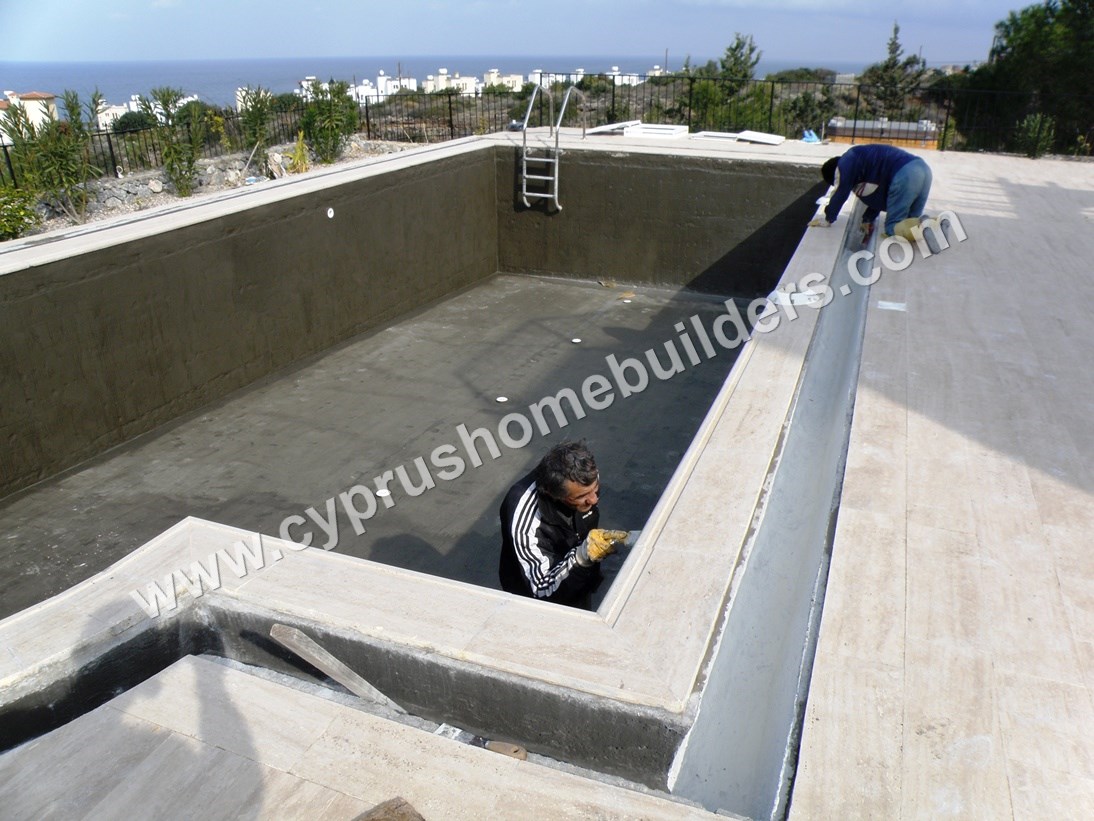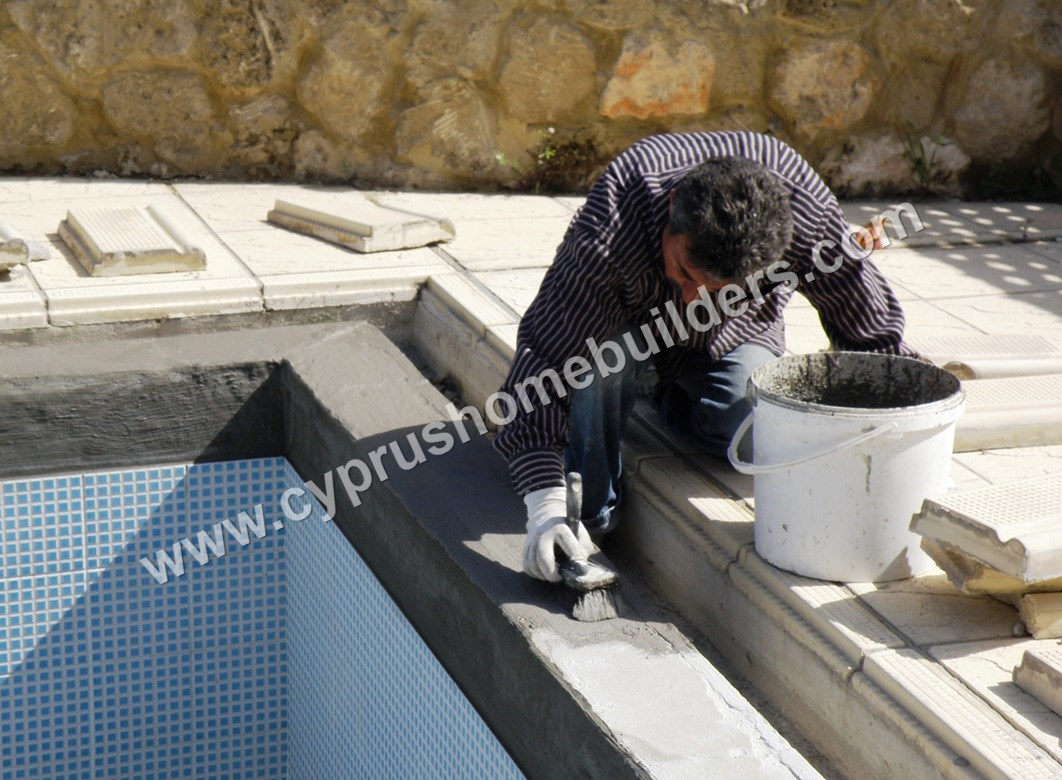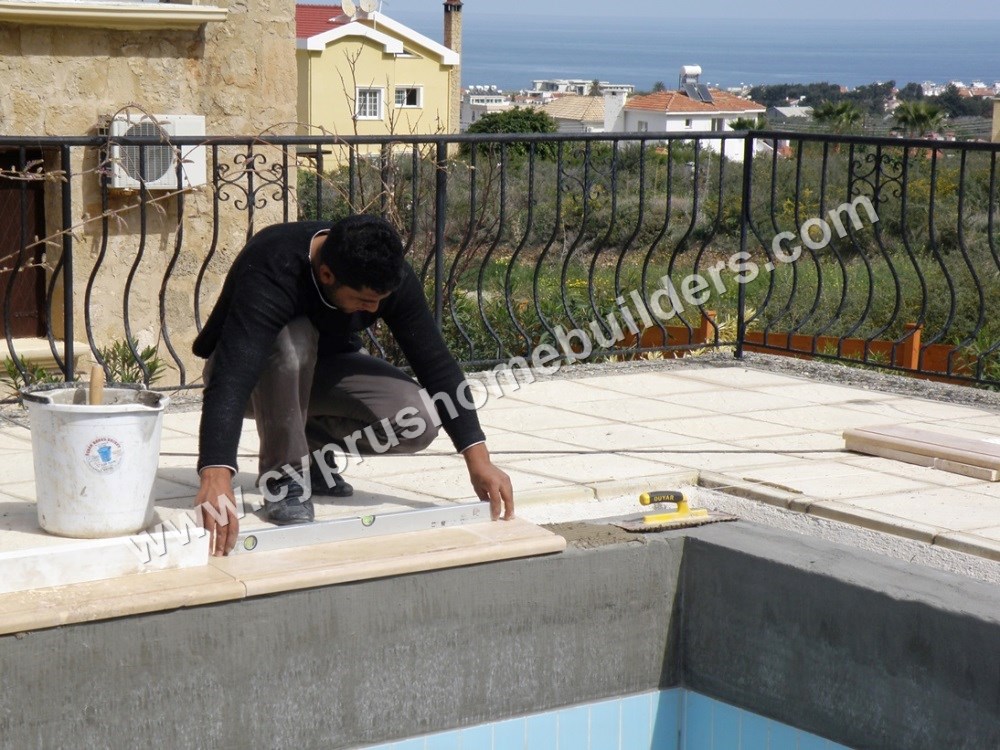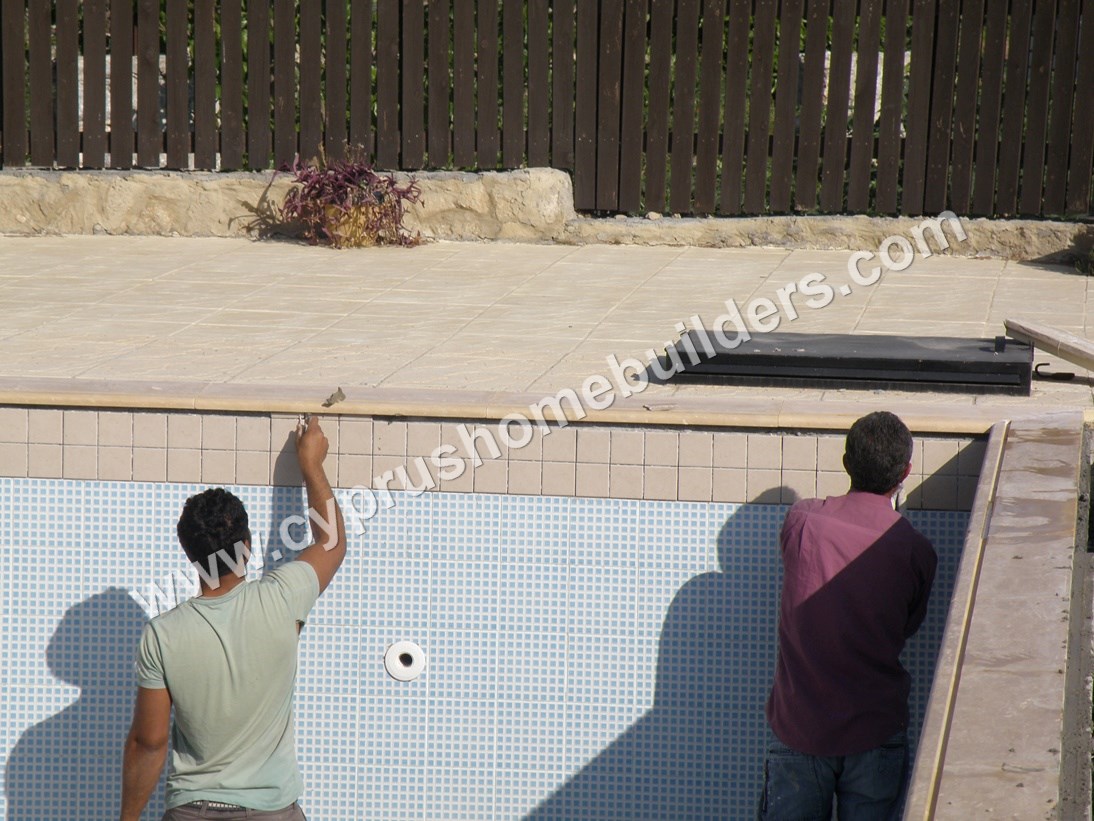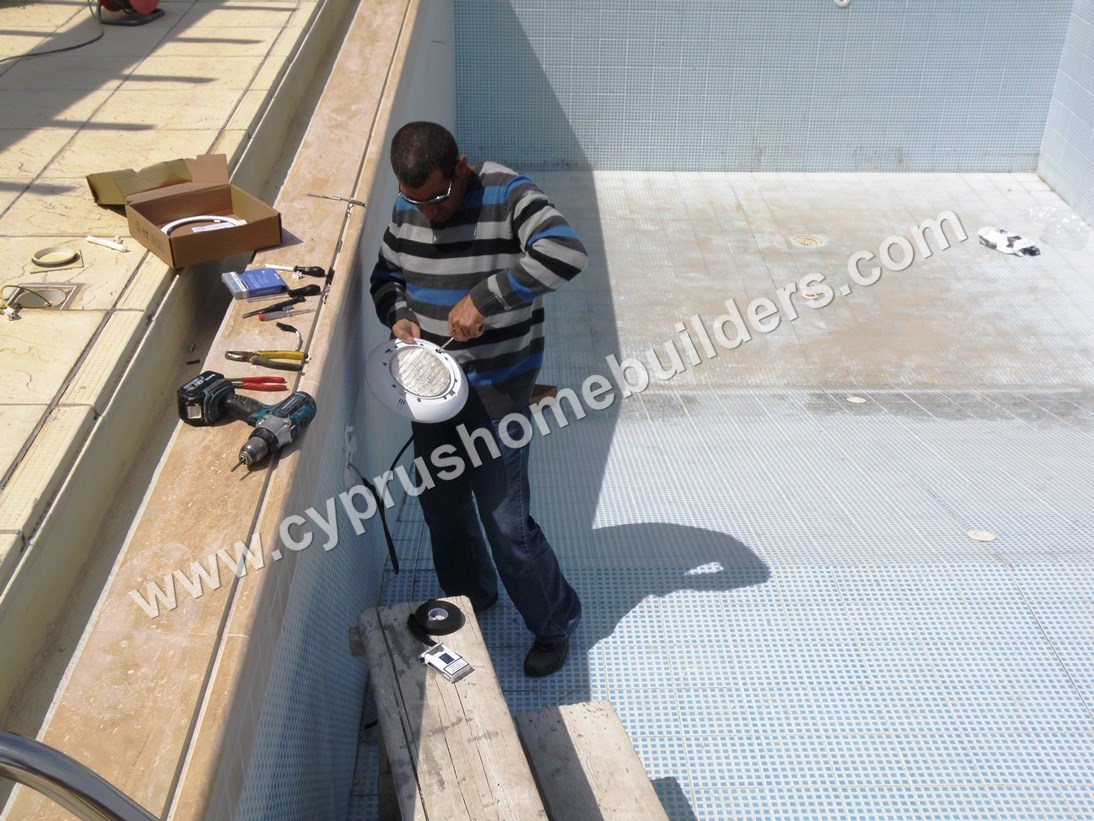 Why Choose Cyprus Homebuilders?
1. At Cyprus Homebuilders, we have over ten years of experience in construction and repairs of swimming pools. This achievement has given us a high degree of expertise in every aspect of building and repairing swimming pools. We never cut corners, and we offer the most sensible, current techniques using only use the finest materials available. You receive professional and competent service every time!
2. We understand the value of this essential luxury given the high temperatures in the summer months, and we ensure your pool is both functional and attractive to meet your needs and enhance your property as well. After a comprehensive onsite inspection, our professional team will propose a plan including a detailed quote to build or repair a swimming pool that will withstand the test of time.
3. We provide a full warranty on all work completed. If you are not completely satisfied on completion, we will resolve any matter promptly and courteously at no additional charge.
Consult with Cyprus Homebuilders regarding a swimming pool leak, tiling defect, or pool construction issue right away, before serious water damage takes place. Contact us today to investigate any issues with regard to your pool or overflow channel, and receive a free on-site assessment.
Request a Quote
( ! ) Strict standards: Only variables should be passed by reference in /var/www/cyprus/www/.lib/My/Form/Decorator/AdminSelect.php on line 43
Call Stack
#
Time
Memory
Function
Location
1
0.0001
233056
{main}( )
../index.php:0
2
0.0356
2059504
Zend_Application->run( )
../index.php:31
3
0.0356
2059624
Zend_Application_Bootstrap_Bootstrap->run( )
../Application.php:366
4
0.0357
2061312
Zend_Controller_Front->dispatch( )
../Bootstrap.php:97
5
0.0738
2721968
Zend_Controller_Dispatcher_Standard->dispatch( )
../Front.php:954
6
0.0758
2856464
Zend_Controller_Action->dispatch( )
../Standard.php:308
7
0.0894
4134920
Zend_Controller_Action_HelperBroker->notifyPostDispatch( )
../Action.php:526
8
0.0894
4135968
Zend_Controller_Action_Helper_ViewRenderer->postDispatch( )
../HelperBroker.php:277
9
0.0894
4136256
Zend_Controller_Action_Helper_ViewRenderer->render( )
../ViewRenderer.php:960
10
0.0898
4137288
Zend_Controller_Action_Helper_ViewRenderer->renderScript( )
../ViewRenderer.php:921
11
0.0898
4137432
Zend_View_Abstract->render( )
../ViewRenderer.php:900
12
0.0899
4154448
Zend_View->_run( )
../Abstract.php:888
13
0.0899
4155592
include( '/var/www/cyprus/www/.application/modules/services/views/scripts/index/show.phtml' )
../View.php:108
14
0.0958
4268424
Zend_Form->__toString( )
../View.php:188
15
0.0958
4268520
Zend_Form->render( )
../Form.php:2949
16
0.0958
4269280
Zend_Form_Decorator_FormElements->render( )
../Form.php:2933
17
0.0964
4276104
Zend_Form_Element->render( )
../FormElements.php:116
18
0.0964
4276592
My_Form_Decorator_AdminSelect->render( )
../Element.php:2042